Dr. Anthony and Breanne Wood
Mission Bible Church, Costa Mesa CA
With one child having developmental and social disorders, our life wasn't just hectic, it was overwhelming. However, we believe that 'training hearts', through Christ, has done what psychology and medication couldn't have done, and allowed our little guy to love God and love others.   Our oldest son went from being one of the most myopic, judgmental, and demanding children I'd ever seen.  We now enjoy having a buddy, gym partner, care-taker, and sensitive leader, and this by the age of 5.  The class allowed us to move past training behavior and focus on training hearts. This has created a home culture that exists to glorify God and develop committed followers of Jesus Christ (instead of robots).  There has been such an improvement in school! Our son started a school program at age 3 and we were called the first day because of his tantrums and misbehavior. 
A year later and after we took Training Hearts for Jesus biblical parenting class, we enrolled him in Pre-K, and he came home with a super-star award after the first day!  God is good!  There has also been improvement in the area of his attitude and his abilities as seen through extra curricular activities.  Our son tended to be individualistic and thus, did not perform well in team-settings. He now plays with friends in the neighborhood and our home has become the place for team games, such as baseball, football, soccer, and dinner!  My wife was a strong influence in my taking this class, for which I am eternally grateful! I had doubts the first week, but by week two I was sold.  We saw progress immediately following each principle that was instituted.  We are so happy we took this parenting class and have already recommended it to many.  There were many days before THfJ where we felt overwhelmed by the job of parenting.  Our home felt chaotic after having children & there was little peace.  After starting the class, the atmosphere of our home immediately changed; we had direction & a plan for our home & our lives.  The class was also paramount in opening up lines of communication between my wife and me.  That was one of the highlights. Common cause, common experience, common enemy, all equate to bonding a couple around the nucleus of God's word!   People say that "content is king" when it comes to training, but I'd add that "content is king IF it's shared by authentic voices." That's what works about THFJ. Mario, Sharon, and the other leaders are "eating what they're selling" and are committed to it! They are not only great communicators, but committed disciples of Christ, and this comes across in their weekly passion for the topic of biblical parenting with those they lead through the process!
When we have left the children with the grandparents in the past, we were fearful of how they would behave and what we would hear when we returned.  Now, we have confidence that when we leave them, they will treat authority, property & their peers with respect.  The grandparents now tell us that they are blessed when they stay with them and appreciate their obedience.
We love the way the class has changed our relationship with our children!  With order brought into the home, each evening we are able to institute "prayer journals" where, on top of Bible reading, we keep notes on daily prayers and hopes. God is now answering their faithful prayers – seeing people in our church blessed, miracles happen in our societal context, and their adopted siblings in Africa cared for – We now have a life-long family documentation, together, of God's stirring in our home!  Our whole family is walking closer to the Lord as a result of Training Hearts for Jesus!  This isn't just a class on what God will do through your child but a discipleship class on what God wants to do in you, as the parent!  We believe the biblical principles taught through this class are resulting in blessings for our children and their future.  Generational curses were broken and a new legacy was founded.  We believe that generations will be bettered due to the changes we have made in our family as a result of this class. Specifically, I pray we all learn to love and lead our children for who THEY are, and who God made them to be, and not who WE want them to be.
Pastor Costi and Christyne Hinn
Shepherd's House Bible Church, Chandler, AZ. President of For the Gospel. Co-authors of the children's book: In Jesus' Name I Pray: TJ the Squirrel Learns the True Heart of Prayer (Harvest House, 2022).
 Parenting is one of the most personal aspects of family life, but for a Christian, it also needs to be one of the most biblical. As parents, we all have traditions, opinions, experiences, and feelings about parenting, but the wise Christian parent filters all of those through Scripture. Training Hearts for Jesus helped us form a biblical worldview on parenting that has impacted our home for years. With a 4 kids and a 5th on the way, we want to win at home — where it matters most.  One of the most unexpected blessings of this class was that it began with important truths about marriage that strengthened us as a parenting team! Mario and Sharon target the heart of marriage and parenting because there can be no lasting "behavior modification" without true "heart transformation." This class will give you building blocks for a strong home front in today's world. 
Pastor Albert and Alix Kilgore
Mission Bible Church, East Valley, AZ
Ali and I took the THFJ Parenting Class with Mario and Sharon back in 2012 when our oldest son was 2 years old. Their class allowed us to find strength and courage in Scripture to parent God's way. You will be blessed and encouraged by taking their Parenting Class, don't wait!
Pastor Brett and Aimie Skinner
Mission Bible Church CM, CA and For the Gospel Ministry
Like most parents, we desired obedient children who respected and were a blessing to those around them, but were at a loss when it came to bringing them up in the discipline and instruction of the Lord (Eph. 6:4). Our pastor recommended we take this class, so we signed our entire life group up to take it together. What Mario and Sharon have created with Training Hearts for Jesus is life altering. They combine the wisdom and truths found in God's word and deliver it in such a practical, encouraging, and insightful way.
Pastor Brett and Freizel McIntosh
Shepherd's House Bible Pastor of Family and Discipleship
We are Team McIntosh! We've been married for 9 years. We are daily thankful the Lord has allowed us to steward the hearts of 4 children, 5 coming fall 2022. Training Hearts has been fundamental in the training up of our children in the way they should go. We know it is God alone who determines the outcome of our children's salvation, but we also know that the definition of successful parenting is based on our diligence in training their hearts unto the Lord. So we forge daily to raise our children with an unwearied love and unbending authority, trusting the Lord with their life.  The wisdom Mario and Sharon have poured into our home has been invaluable, from sharing the practical how-to's of Biblically training up our children in righteousness to continually driving their advice back to Scripture. We are eternally grateful for this class and the Cannavos! 
Nate and Christina Rosales
Mission Bible Church AZ, Discipleship Pastor
Training Hearts for Jesus has been a tremendous blessing, not just for our children, but for us as parents! The Lord used Mario and Sharon mightily to show us how to navigate His Word faithfully with eternity in mind—from practical day-to-day parenting tips to lifelong principles that transcend all life stages! While no one parents perfectly, this course will allow everyone who locks in to parent confidently and biblically. The aim is the heart, not behavior!
Mike and Jen Otazu
In the first century, Paul told Timothy that "All Scripture is God-breathed and profitable for teaching, for reproof, for correction, for training in righteousness" (2 Tim 3:16). In the twenty-first century, most Christians affirm this truth wholeheartedly, but only some actually apply it to their parenting. My wife and I were one of the many who knew that we should rely on Scripture but often looked to the world (or to other confused Christian parents) for parenting advice. We trusted the Lord with the big stuff but assumed that He didn't have much to say about the day-to-day stuff. How wrong we were!
When my wife and I were blessed with our first child, it didn't take long for us to realize that we needed help. We weren't prepared for how quickly and fiercely sin surfaced. We would often scratch our heads, asking each other if we should be disciplining for some new behavior we'd just seen pop up. We'd fall back on our own parents' styles or even worse—just what felt right. Mr. and Mrs. Cannavo helped us understand that the foundational truths contained in Scripture have much to say about the little things of parenting.
God has spoken—we have no need to guess. He has already provided us with the ultimate parenting guide. God's Word is filled with deep truths that, when interpreted and understood faithfully, have applications that reach into the home and shape the way we interact with the children with whom He has blessed us. From struggling on the changing table at 6 months old, to courting and young-adulthood, Mr. and Mrs. Cannavo gifted us with invaluable tips and strategies from their many years of experiential wisdom. BUT, even more valuable than this, they helped shape our parenting worldview into one that is deeply rooted in Scripture. It was a paradigm shift for us—sometimes painful to unlearn bad habits—but I wouldn't change a thing. Do yourself, your children, and your children's future spouses a favor—take this class!
Pastor Chris and Brianna Kirish
Renovate Church, Long Beach, CA 
There is so much I could say about Training Hearts and Mario and Sharon. My wife Brianna I became aware of Training Hearts several years ago when my long time mentor Tony Wood recommended their class to me. In my late twenties I asked him the best thing I could do at that stage of my life to be a better pastor, husband, and father. "I recommend you take a 14 week parenting class called Training Hearts for Jesus. Oh, and by the way it costs money." 
As a young pastor whose finances had always been tight I thought that sounds like a waste of time and money, and besides I'm a pretty good husband and father. I don't need to take a parenting class. 
Several years later my wife and I began to feel the pain of parenting three young kids 5, 3, and 2 and I reached out to Tony and asked him pretty much the same question but this time not in curiosity but in desperation. He very politely paused, sat back, and then gently said, "You may remember a parenting class I told you to take a few years back called Training Hearts for Jesus." I immediately apologized and affirmed I did not follow his advice and grudgingly signed up for the class hoping I could learn a little.  Today, I can tell you that both my wife and I believe taking the Training Hearts for Jesus class is the best and most life transformational thing we've ever done in our family. It has helped my wife and I to be one in parenting and in marriage for areas we used to be divided. We have learned biblical parenting principles that have completely changed the way we function in marriage and in parenting and we have seen the fruit in our home. We have learned the difference between parenting to have well behaved children and shepherding their hearts to love and follow Jesus. 
Most parenting help is about an outside-in approach and helping parents get what they want. Well-behaved children who are polite and impressive in family functions. Training Hearts is about an inside-out approach. Training Hearts is not about raising well-behaved citizens but rather raising true disciples of Christ who you don't have to worry about their faith when they go off to college. Friends and family quite frequently praise the love and obedience they see in our children. They tell us how impressed they are with how well our children know the Bible, how much they love to pray, and how great of an example they are in class during worship. We use it as an opportunity to share all that God has done in our lives through the ministry of Training Hearts. 
Cody and Brooke Elder
We thought we had biblical parenting down. Until our firstborn turned one… and all the voices from worldly influences through social media on "how to parent" began to take over my own sense of direction. I knew we needed this class because I knew that in a world of so much noise we needed to get back on track and re focus on the true foundation that is biblical parenting and training. We are SO thankful to have been introduced to this course and have gone through it. We feel so much more confident in our role as parents and grateful that God has given us such a precious and specific role when it comes to our children. This course was the clarity we needed in such a confused world and gave us strong and biblical direction that will stand the test of time. Best parenting decision we've made yet.
Bryce and Brooke Blomberg
While we were pregnant with our first child we had the privilege of observing families around our church. The children were joyful and obedient and the parents were calm and spoke directions once in a soft tone. My husband and I finally said... okay what are you doing differently! What we witnessed was so counter cultural to the "count to 3" and yell out commands tactics we all had grown up with. Our friends responded with Training Hearts for Jesus! A class about Gods design for the family structure. We were amazed at how much the Bible had to say about raising our children and how everything came back to the heart of the child and the Word of God. It caused us to see great joy and also great responsibility in our role as their parents. We have now completed the class 3 times- first when our daughter was 6 months old, now she is almost 4! Each time we soak in different information and build upon previous knowledge based on our children's current age and stage. When parents ask us the one piece of advice we can share that has been most valuable in having children, we agree together every time that it was taking the class. We feel equipped to handle and thrive through the various stages of our child's development with anticipation and not dread! We know now what an integral hand we have in shaping their hearts into a child who is submissive to the Lord by learning to submit to mommy and daddy. 
Sharon and Mario are filled with so much wisdom after teaching this course for so many years and 3 adult children of their own. Taking the class allowed for personal interactions and linking arms with other parents as well, to dig into the practical aspects of day to day scenarios we encounter and how to put what the Bible says into action. Our first two classes we drove from Moreno Valley to San Clemente for 14 weeks straight and we never regretted it, not once. It was the most impactful sacrifice we made for our family and our children are now living fruit of all we learned.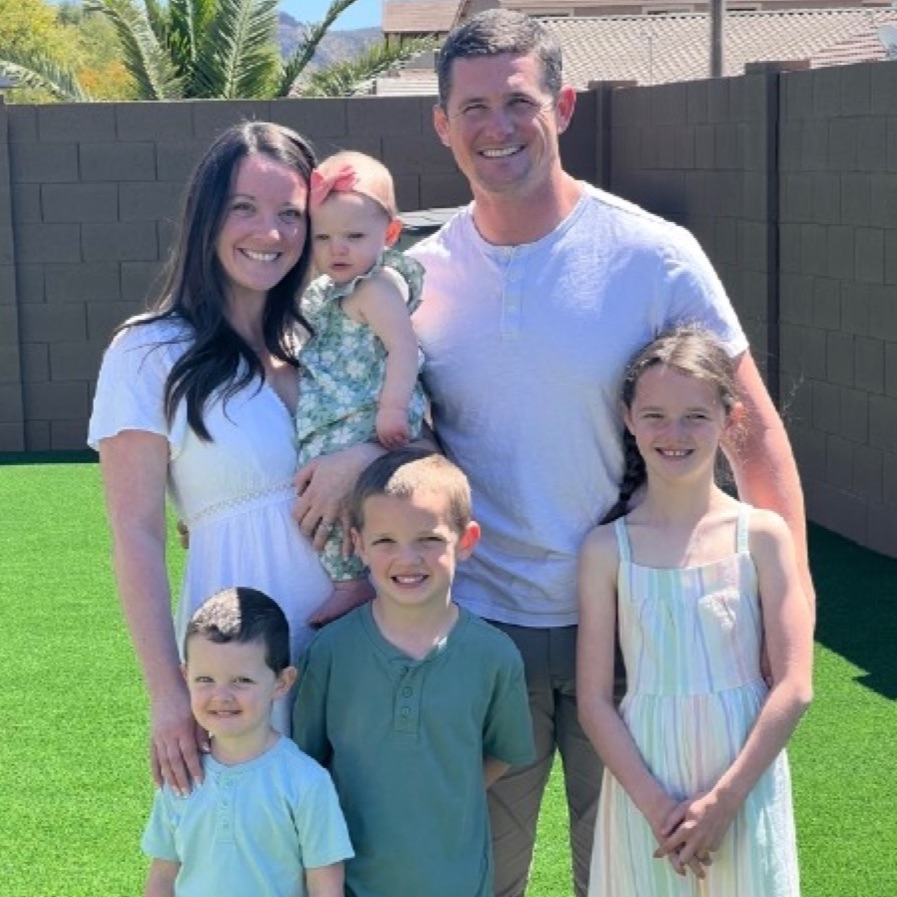 Dustin and Tiffany Thurmond
We have four children and heard about THfJ through different gospel centered podcast platforms (For the Gospel, Date Night with the Woods etc). We did not grow up in biblically based homes and were very excited to gain insight and be mentored in what it means to "train up a child in the way they should go". The critical thing that we would like to share with anyone thinking about taking the class is this; while the primary message of the class is to address the heart issues of your child, giving you the tools/skills to do so, the class did more than that. It was very intentional in examining our own hearts. Getting to the root of our own sin nature in a surgical like way, but always exalting Christ and the gospel as the procedure was being accomplished. This ultimately allowed us to see that family "shortcomings" had very little to do with our children and everything to do with us. This class lays a better foundation than just being a "parenting-training" tool, it provides a discipleship relationship with Sharon and Mario, that grows individuals in Christ-likeness. The byproduct of their discipleship and own Christ-like examples is a stronger marriage, parent to child relationship, family, and home.
Jared and Joelle Bryan
This class has been very convicting and influential for our growing family. We were both raised differently and now have the blessing of having had these biblical convictions early on by taking this class and are now on the same page too because of it. We can now train our boys up in the ways of the Lord. We would highly recommend this for anyone really and plan to take it again when our boys are older to refresh ourselves with good, biblical content. Soli Deo Gloria! ❤️
Worship Pastor Dylan and Kaylie Housewright
Training hearts transformed the way we parented in such a beautiful and life-giving way! Dylan and I not only got to connect and create a unified foundation and path for raising our family but got to dive deep together in the vitality of not momentary behavioral change but longitudinal HEART change for our children! It has nurtured the environment we manifest in our home and the faith filled conversations and care we get to have with these littles God has chosen us to be responsible for. We highly recommend this class for soon to be parents, "want to be" parents, and parents in general!
John Thomas and Mary Lisa Patton
Not only has prayer been the best covering in parenting but the wisdom we learned in applying Gods Word through Training Hearts for Jesus has been life transforming. This journey has, and continues to sanctify us as we apply what we've learned in caring for these sweet blessings we received from the Lord. Mario and Sharon have shared biblical wisdom to ultimately parent parents, so that they may parent in a way that glorifies God. So much so that it makes a noteworthy difference! We are grateful for the help because it has been a gospel opportunity in the world around us as it so desperately seeks peace. We are so thankful and have loved this resource of Training Hearts that restores Christ's best will for the family.
Jonathan and Gita Thompson
"We can't speak highly enough of Training Hearts for Jesus. As with most parents our initial tendency was to simply focus on our children's behavior, but THFJ has redirected our attention to where the true battle lies: our children's hearts. The class uses a few different mediums to outline and reinforce the Biblical perspective and methods needed for rearing our children unto God -- our most important task as parents. Gita and I are unified in our approach, have common goals, and our children are thriving under the consistency and structure of a Christ-centered home. Our children aren't perfect (and neither are we!) but much of the fruit we see coming from our kids we attribute to what we first learned in this class. Excited to take it for a 3rd time this January!"
Chad and Breanna Lucas
"This parenting class has been transformational for our family because its foundations are deeply rooted upon God's Word. Its principles aim for matters of the heart & daily pointing our children to their need for Christ, rather than simply correcting their outward behavior!
My husband and I are so grateful that THFJ has taught us how to set strong biblical goals for our family. It has allowed us to identify blind spots in ourselves as parents and to make progress in areas such as power-struggles and tantrums with our children. We became aware of areas we were actually strengthening the will of our already "strong-willed" firstborn or excusing certain behaviors of our youngest. We now have biblical strategies to shepherd our daughters through specific heart issues unique to each of them.
Before taking this class, our family structure had unknowingly become a child-run home in subtle ways. Thanks to Mario & Sharon's strong biblical direction & the daily help of the Holy Spirit, our family roles are now a better reflection of what God intended.
Angel and Lorena Gonzalez:
Training Hearts For Jesus has been a beautiful blessing for our family. We are new believers who are raising 5 kids ages 16-5. This course has given us a new set of eyes for what our role as parents is. Having this roadmap has changed the priorities in our lives. We can see how, as we practice our God-given roles correctly, there is a beautiful harmony in the home. Even when things occasionally get rough the overall goal of each moment with our kids is to train them up in the ways of the Lord. We are so thankful for Mario and Sharon and how the work faithfully to present this information.
Alex and Bethany Knoy
 "Alex and I heard about Training Hearts for Jesus from the 'For The Gospel Podcast'. It has been a tremendous blessing, for our son Luca, and especially for us as parents! God not only used this class as a biblical foundation to our parenting in faithfully training the heart of our son, but He also has used it as a tool for the sanctifying work in our own hearts and lives as parents and especially husband and wife. 
Parenting is an extremely high calling.  Shepherding our children in the obedience and admiration of the Lord is how we must respond for what God intends in scripture. The Lord used Mario and Sharon mightily to show us through their course how to navigate His Word faithfully through each and every stage of of our children's lives.  We often find ourselves continually reflecting on what we have learned as Luca progresses through the different stages of childhood and the Lord willing into Adulthood - parenting still plays a role even then.  This class gives such profound biblical insight to parenting and directly points us to scripture with each and every lesson. We were reminded just this past Sunday - and so very often- how truly thankful we were for this course. We have diligently brought Luca (who just turned 3 years old) into Sunday service with us since he was born. I recently shared one of our victories with Sharon that brought me to tears. Luca sat through service and we didn't have to go out once. He quietly respected the listening ears of those around him and would whisper to us if he needed anything. Our children can take time, but when consistent and obedient in our parenting unto the Lord we will indeed see the fruit. 
There is so much I wish I could share. I cannot recommend this class enough! We plan to continually take this class throughout our parenting years, as it is FULL of so much truth and wisdom.
Matt and Taren Long
"Highly recommend this class! 
If your first desire as parents is to raise Godly children, look no further. This class will equip you to constantly point your children to Christ, in the happy times and in times of discipline. Scripture is woven throughout each weeks lesson. There are practical principles to apply immediately each week with your children. The homework is broken up into small chunks for each day, so it's not overwhelming. The homework is so encouraging and practical. The class is all about training our children to look to God's word as an instruction manual for life. Sharon and Mario are such a blessing, and show wholeheartedly that they care for each member of the class and their children. They do not "sugar coat" the truths of biblical parenting and that is so refreshing and necessary today. They are a wonderful team who guide the class with organization, care, and love. Overall, 10/10 on this course, it's a must!"
Layne and Natalie Higgins
My husband and I were truly blessed to be a part of the Training Hearts class this year!  We have three children ages 8, 7, and 5 and were looking for biblical advice in moving into the "kid" years and shifting our focus to training their hearts, not just behavior correction.  This class helped us in so many ways!  We learned how vital the Word is to training our children's hearts (and ours in the process!).  There was so much scripture woven into the curriculum, and it caused us to dive deeper into the Word in the process.  We also learned many practical, biblical methods for intentionally training their hearts, and Sharon and Mario were so open about their parenting experiences, which helped us to feel comfortable coming to them with questions and frustrations.  We were taught the value of discipling our children and helping them to understand their sin and offense against a holy God.  Also, the value of hearing from other parents and knowing you are not alone in this season of life was so comforting.  Overall, we grew closer to Christ, our kids, and each other in the whole process as we discussed our goals for parenting and prayed more than ever before for each other and our kids.  I wouldn't hesitate to recommend this class to any and all parents, no matter their children's ages!
Graham and Jaime Wahlberg
Our family is so thankful for training hearts. Before the class, even though everyone said we were the best parents they knew, we were struggling. Every day was a battle, we were exhausted. Training hearts broke the glass and showed us through scripture what parenting should look like. Peace has been brought to our home. The kids feel secure in knowing our expectations for them to love God and others. We feel as now our kids truly are a blessing rather than burden. We can not recommend anything more for families who want to raise their kids to know and serve the Lord.
Pastor Patrick and Jasmine Ford
Life Changing! Revelatory! An answer to prayer! This class has really changed the culture in our home. We have two sons, ages 10 & 7, who are so well-mannered that most adults enjoy spending time in their company. However, I was plagued with a question…If I took our sons out of our Christian, homeschool environment, would they become like the world or would their hearts remain steadfast and devoted to the things of God? Were we training them to simply be outwardly obedient with hearts that were far from God? We noticed that when our children were around disobedient children, their hearts were being pulled to impress their new friends by becoming like them. How could we teach their little hearts in a better way? How could we teach our children to not be Christian chameleons? Or to deceptively live a double life that changed with their environment? 
Enter the Training Hearts Organization! I noticed that one of my dear friends had children who constantly displayed the fruit of the spirit in difficult situations. This godly fruit wasn't displayed just in their parents' presence, with the parent goading them into it, but it was an outward expression of their love for God. When I asked how she was able to teach that so well she told me it was because of a parenting class called Training Hearts. My husband and I immediately signed up. The class was revelatory! It was an answer to all of those nagging questions I had about what I perceived as a void in our parenting arsenal. Training Hearts taught us how to train their little hearts for Jesus. Every week, as we applied the tools, we began to see visible changes in our children's hearts. Their faith in God became their own; it wasn't just something Mommy & Daddy believe, it became what they truly believed too. Now, our children are taking responsibility for their own actions. They readily repent of daily sins without being prodded. They learned to be respectful of people and property. There is so much more peace in our home. Even completing their daily chores has become a joyful task to them. We, as parents and our church family, are seeing in them a more steadfast commitment to their faith in God. So much so that when our church had their first Kids Takeover Service, they asked my ten-year old if he would preach a fifteen minute sermon on obedience and my seven year old was asked to play Joshua, the lead, and perform a skit with the other children. They both did a phenomenal job! 
My ten year old even had a beautiful teaching experience from God prior to his sermon delivery. As soon as he agreed to preach his first sermon, every after school activity he was a part of had a group of disobedient kids in them. His heart had become so beautifully trained that he would come home crying because he did not understand why anyone would hurt God by being so disobedient. He began to pray for those kids. One day, when I walked into the room, and instead of my son getting irritated with the kids, he started praying. And I could see the peace of God fill him up as he trusted God regardless of his environment. Later he said to me, I totally get it now. God loves me and gives us His Peace when we love, trust and obey Him. With all that our family has learned through Training Hearts, my son  was able to deliver a beautiful sermon about the beauty of serving & obeying God because we love Him. 
Training Hearts gave us encouragement on things we were already doing right and amazing, hands on instructions for what we had no clue about. We thought we were just taking a class but we ended up gaining a beautiful family. We are so thankful to the Cannavos for the meaty, practical, hands-on tools they provided during this course. This class continues to have an eternal impact on us, our children and our children's children. 
John and Michelle L. Vorwerk, Psy.D
In a world filled with so many parenting "styles" and "methods," my husband and I did not know where to turn for guidance on how to raise our son. As a psychologist, I had studied all the developmental and attachment theory methods. Then, I had a baby. I quickly found out that studying how to be a good parent and actually being a good parent were two very different things. The Training Hearts for Jesus Parenting Class provided the answer we were looking for - raising our son according biblical principles. As we went through the class I was absolutely floored at what God reveals in His Word about how to raise a child. He is specific and detailed about how He wants us to raise our children. We were amazed each week as we came to class to learn and began implementing what we were learning in our son's life. The thought which kept emerging in my mind, "I've struck gold!"  The class is a big commitment, but a worthy investment. We hear from other people all the time that we have such a "good" and "compliant" son. 
This is by no accident, he has been trained under God's Word and authority. The skills we learned in this class are foundational to our son's future as a steward of God. I cannot recommend this class highly enough and we were blessed tremendously by Mario and Sharon as they poured their hearts into teaching us the foundations of raising a godly child.
Jason and Shari Blakely
My husband and I originally took the "Training Hearts for Jesus" class that began in June 2011. A few of our friends recommended the class and said, "I wish I had known these things when my kids were younger". As a pregnant, stay at home mom with a toddler (under 2 years old); I quickly became overwhelmed by my role as a wife and mother. My husband and I wanted to implement more biblical principals into our son's everyday life, but didn't know exactly how to do that. THfJ provided a wonderful guideline that takes the guesswork out of what God expects from those who are chosen to raise his children.
The instructors were constantly taking us to God's Word, which was the training that we needed in order to do the same for our children.  My husband and I no longer look at just the behavior, but at the "heart issue" of the behavior. THfJ also helps parents to maneuver through the "how" of getting to the "heart issue". This continues to be a challenge, but I am incredibly grateful to have started this process while my kids are young.  As a result, our house (for the most part) is a pleasant and fun place to be, our friends and family are excited to have our son around them and many strangers have complemented us on how well behaved our two-year is.This class is a call to action for parents who want to raise Christian leaders and children who will "glorify God and enjoy Him forever". It is our duty, as parents, to "train them up in the way they should go and when they are old they will not turn from it" (Proverbs 22:6).
Jon and Maria Mabini
"We always knew the Bible had all the answers to all of our questions, including parenting. We just didn't know how to actually apply it when it came to raising our children. So for the first 4 years of being parents, we went about it almost blindly, hoping and praying for the best, and often seeking advice from other seasoned parents. Until that one day when we found out Training Hearts was offering a virtual class for the first time ever, I knew it was our chance to really make a difference for our family!  My sister had shared THFJ with us over the years, but we live in New York City, so attending classes in California wasn't an option.  Being able to finally attend virtually was such a GIFT - what a transformative blessing it has been!  It was such an eye-opener; a parenting "compass", that helped us cut out the noise and distraction, and instead focus on what God and the Bible intended for our families. It aligned the goals for our family, and gave us a deeper understanding on how we should train up our children in Christ Jesus.  It feels like we are just at the beginning of this parenting journey, but it is such a testament of God working in our lives when we are told how warm, kind, and respectful our children are.  Not only did it transform the hearts of our children, but it also transformed our hearts as parents.  Forever grateful that God led us to Mario and Sharon, and for the impact they have made in our lives".  
Les and Tracie Griffin
My husband Les and I finished this class back in October 2011. We have two children. Their names our Emma and Kai. They are four and five years old with twelve months between them. Taking this class was the best thing we ever did for our family!! It did amazing things in our parenting and in our marriage. We learned how to talk with our children and how to truly get to their hearts. We learned helpful tools in all areas of parenting. This class helped us to look deeper into our roles as parents and the future goals of our entire family. We have made LIFE changes that have helped us to be stronger, more patient, involved parents. I just wish we had taken the class sooner.
Pastor Aaron and Suzanne McKay
"Training Hearts for Jesus is an invaluable tool for parents who want to gain a clear vision of biblical parenting. Not only will you take a closer look at what God's Word says, but you will begin to pursue Him more richly and deeply as you examine your own heart and motives in your parenting journey. Full of biblical truth, practical advice, and years of wisdom, Sharon Cannavo's boldly and beautifully written text will help you gain new insight and tools into raising your child to be more Christ like. Our home is a more peaceful, joy-filled and loving place because of this resource."
Melvin and Stephanie Tobaru
Training Hearts is a life-changing experience that has first and foremost strengthened our walk with God. We came into the class thinking we were going to learn how to "fix" our children, but it was clear since day 1 that it wasn't so much about our children, as it was about our walk with God and our obedience to Him to train them in the way that they should go. The class has also strengthened our marriage as we both now know what God expects from us as parents and we can lovingly hold each other accountable, and lift each other up when faced with parenting issues. The class has given us practical AND biblically-based tools that we use every day, and have become so much a part of our lives. Our family is stronger and closer because of the biblically-based parenting we have implemented in our home. We have a 4-, 2-, and 1-year old and we can honestly say that our home is not only filled with love but also peace and harmony.
We are so grateful for Mario and Sharon for their faithfulness! They are such incredible mentors!